CAREER-FOCUSED CONSTRUCTION SCIENCE EXPO ARRIVES TO DETROIT FOR NINTH YEAR IN A ROW THIS MAY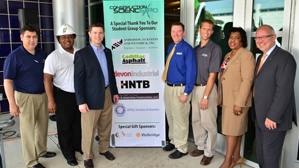 FOR IMMEDIATE RELEASE
CONTACT:
Lauren Clark
lauren@ignitionmediagroup.com
Ignition Media Group
CAREER-FOCUSED CONSTRUCTION SCIENCE EXPO ARRIVES TO DETROIT FOR NINTH YEAR IN A ROW THIS MAY
Highly-Anticipated Event Increases Awareness of Careers in Construction and Engineering
for Students in Metro Detroit
DETROIT, MICH.
-- The 9th Annual Construction Science Expo (CSE) is introducing Detroit middle and high school students to the construction and engineering industry through a day of hands-on and interactive exploratory experiences and conversations. Founded in 2011 in partnership with the Black Caucus Foundation, MITA, ACEC and the Operating Engineers 324, the expo is the longest running career awareness activity day for youth in Detroit that brings together the construction design and trade skill aspects, both high demand industries.
Overall, the expo's mission is to establish that entering a skilled career, as either an engineer or tradesperson, is a highly valued option immediately after high school graduation. Since inception, The Black Caucus Foundation has led the charge in working with various metro Detroit schools and students to ensure a successful turnout, which over the past eight years has touched more than 8,000 Detroit teens.
On Tuesday, May 21st from 9:30 a.m. to 2:00 p.m. at the Michigan Science Center (5020 John R St, Detroit) roughly 1,000 eager students from nine participating schools that have taken a drug free pledge will spend the day with industry leaders in construction and engineering and will learn what it takes to become construction design or trade skill professionals.
"Michigan is in need of engineers and engineering technicians to design and inspect our infrastructure and assist with roads, bridges and water system repairs," says Ronald W. Brenke, PE, Executive Director of ACEC/Michigan. "We're encouraging youth to explore these opportunities, especially if they enjoy building and problem solving!"
New this year, the CSE committee is hosting an Industry Night on June 6th from 6:00 p.m. to 9:00 p.m. at the Randolph Career Technical Center (17101 Hubbell Ave, Detroit). On this particular night, students and families will learn more about career paths in construction and design and have the opportunity to meet one-on-one with industry professionals regarding trade skill apprenticeships and dual-enrollment college tracks to take immediately.
Lastly, the event is managed by a diverse coalition of businesses, associations and unions and receives assistance from generous sponsors, including Michigan Department of Transportation, The Black Caucus Foundation of Michigan, Cadillac Asphalt Inc., Detroit EITC, Operating Engineers 324, MUST Construction Careers, Laborers' International Union of North America, American Council of Engineering Companies, American Society of Civil Engineers, Michigan Regional Council of Carpenters and Millwrights, Michigan Aggregates Association, Operative Plasterers' and Cement Masons' International Association, Michigan Infrastructure & Transportation Association, Michigan CAT, Michigan Concrete Association, Michigan Construction, HNTB, Poco Inc., Michigan Paving & Materials, National Electrical Contractors Association, International Brotherhood of Electrical Workers, Edw. C. Levy Co., Anderson, Eckstein & Westrick, Asphalt Pavement Association of Michigan, OHM Advisors and Devon Industrial Group.
For more information, please visit
www.constructionscienceexpo.com
.
Construction Science Expo
The Construction Science Expo sponsors 1,000 Detroit Public School students participating
in Black Caucus Foundation programs to attend this free event which encourages youth to
consider working in construction skilled trades, engineering or design after graduation. At the Expo, student groups led by employer leaders, rotate in groups through hands-on activity stations highlighting skilled trades and engineering challenges as well as an emphasis on the importance of staying drug free, non-violent and to graduate from high school.