Various MSHA Information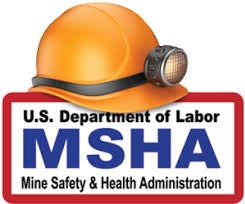 As a reminder, MSHA has a number of useful files on their website for use and reference. A few valuable links that have been recently shared with MAA are listed below. If you have any questions or would like assistance, please contact the MAA office at (517) 381-1732.
Various fillable forms for Part 46 Training documents (
click here
)
New Miner Training Record/Certificate
Newly-hired Experienced Miner Training Record/Certificate
New Task Training Record/Certificate
Annual Refresher Training Record/Certificate
Site-Specific Hazard Awareness Training Record/Certificate
MSHA Videos
Sand, Gravel, And Crushed Stone On-the-job Training Modules - IG-40
These training modules were developed cooperatively by MSHA and members of the sand, gravel, and crushed stone industry.
Click here to be directed to the various training modules
Invitation to participate in the May 2, 2019 MSHA Quarterly Stakeholder Conference Call with Mr. Zatezalo.
Please join the Mine Safety and Health Administration for our next Quarterly Stakeholder Call on Thursday, May 2, 2019, from 1:00 to 2:00 pm Eastern Time.
Assistant Secretary David G. Zatezalo will open the call with remarks and will be available for questions at the close. MSHA staff members will also discuss recent fatalities and equipment fire issues, give an update on training grants, and walk through highlights of our updated Mine Data Retrieval System.
Click here to register for the call