Unified Screening & Crushing Recertifies for ISO Standards
Unified Screening & Crushing, a premier manufacturer of screening and sizing media and supplier of crusher wear parts announced the company has successfully completed recertification for ISO Standards: ISO 9001:2015.
ISO 9001:2015 is the most recent Quality Management System (QMS) standard that requires an organization to meet its own requirements and those of its customers and regulators.
The International Organization for Standardization (ISO) is an independent non-government organization that develops voluntary standards for numerous industries and goods like manufactured products, food safety, and healthcare.
"While the ISO certification does not define the quality of a product, it does help us achieve consistent results," said Andrew Lentsch, Chief Operating Officer. "In our industry, consistent quality is critical," said Lentsch.
Unified products are used heavily in the aggregate and mining industry as well as in production of concrete, cement and associated products used in roads, infrastructure and construction. Woven wire cloth is also used in the filtering and straining processes for: producing pharmaceuticals, agriculture, food processing, water processing facilities, elements of the aerospace and defense industries, and by companies producing frac sand used in the U.S. oil and gas industry.
Lentsch said that being ISO compliant means Unified's manufacturing process is always under review, "We are continuously looking for ways we can improve. When the ISO standards were upgraded, we were excited for the chance to re-certify."
One of the elements evaluated in ISO is knowledge or experience of staff. Lentsch said Unified has more than 200 years of collective experience in the field, which informs the company's manufacturing process and helps them to monitor production. "Unified Customer Service Representatives have previous industry experience," said Lentsch. "They've worked in quarries and in mines, crushing and screening aggregates, coal, concrete, gravel, limestone, sand and topsoil and everything in between." Lentsch said Unified representatives have spent decades as plant supervisors, responsible for production, plant repair and mine planning.
Unified's ISO certifications require comprehensive audits by the company's internal team and validation by a third-party certifying body to ensure compliance with these standards.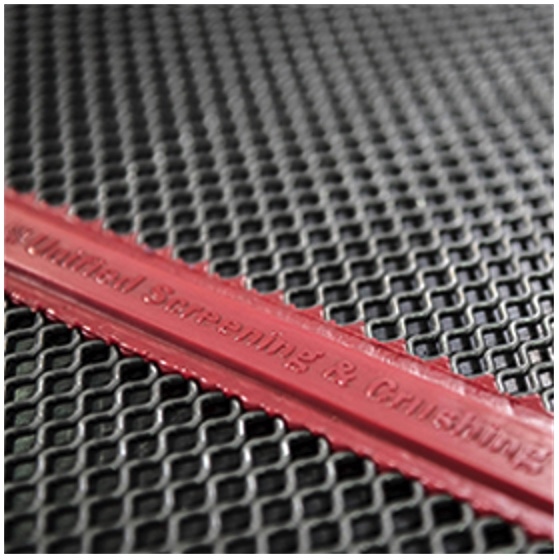 Unified's popular SuperFlow product
About Unified Screening & Crushing: Unified Screening & Crushing is a family-owned, industry-leading group of screening and sizing media manufacturers across the United States, with 14 production facilities throughout the country. In addition to manufacturing hundreds of thousands of wire, urethane, and rubber screen media products, Unified maintains one of the largest inventories of crusher wear parts.
For more information, visit:
www.unifiedscreening.com
, or contact
info@unifiedscreening.com
.